Welcome to American Surplus Inc.
---
American Surplus Inc. buys and sells used warehouse storage and material handling equipment, and has an outstanding reputation of working with our customers to get them the right equipment they need quickly, and at the most competitive price available. For over 22 years we have been providing material handling solutions for both business's and consumers.
Challenge us to get answers to your warehouse storage or material handling problems, issues, or concerns. Our sales staff will happily speak with you to determine your exact material handling needs so that they can provide accurate solutions. We have an incredibly large inventory of used equipment on hand and should have no problem finding you the right product in a timely fashion.
With over 530,000 square feet of inventory in our warehouse, ASI is the largest used material handling dealer in the country. All of our inventory is stored indoors, so weather damage is not a concern when buying used equipment from us. Our main facility is located in RI, but we have shipping locations throughout the nation. This allows us to ship nationally while still maintaining competitive freight rates. (read more)
Recent Material Handling Solutions
---
Which Type of Racking is Right for Me?

posted: 12/5/2013
When deciding the storage device to be utilized for a new warehouse facility or an existing one, you must first consider what kind of material you are handling. There are many factors that will further narrow down the process, like how heavy the product is, whether it is on pallets or not, and whether these products require specific flow requirements. This might seem overwhelming, but ASI is here to help answer these questions. read more

Tips to Keep your Conveyor System Running Efficiently

posted: 11/26/2013
Companies that often depend on their conveyor system for their daily operations don't always take proper care of them, so when a breakdown occurs the company can be out of commission for a long time. It usually causes production to come to a screeching halt, resulting in idle employees, late shipments, and overall unsatisfied customers. Some of the common mistakes you can avoid are as follows:read more

posted: 11/11/2013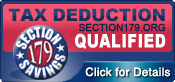 Section 179 of the U.S. Internal Revenue Code allows taxpayers to deduct property of certain types against their income taxes as an expense rather than capitalizing or depreciating it. The type of property that is eligible for this deduction includes tangible, depreciable, personal property that is being bought for use in conduct of that business. read more